Date/Time
Date(s) - Thursday 12/24/2020
6:00 pm - 8:00 pm
Categories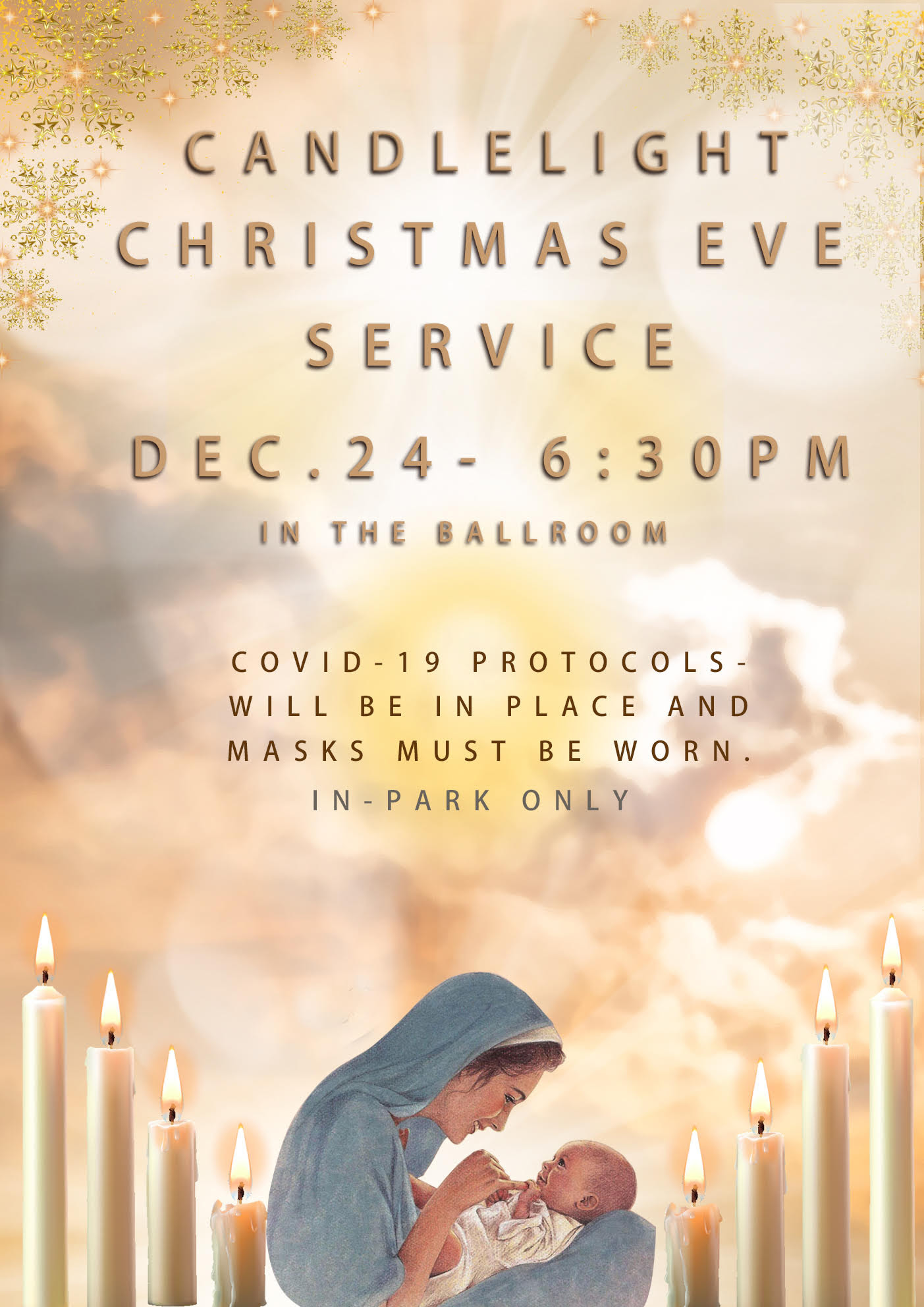 Candlelight Service
My soul magnifies the Lord, and my spirit rejoices in God my Savior (Luke 1:46-47).
---
CHAPEL COVID REQUIREMENTS
Only owners and registered rental guests (no "out of park" people) will be allowed to attend Chapel Services. Overnight registered guests (not daily visitors) may also attend.
Masks will always be required while in the Clubhouse Complex.
Attendance will be limited to 100 which will allow for social distancing.
Services will be livestreamed on Facebook for those who are not in the park or who prefer not to attend in person.
Attendees will sign in with name and lot#, and will be asked to indicate whether they have or have had any COVID symptoms; if they answer yes they will not be allowed to attend Chapel Services and must leave the Clubhouse complex.
A hand sanitizing station will be available at the entrance.
All attendees must maintain social distancing of at least 6 feet.
The ventilation system will be set wide open to ensure proper air circulation and exchange.
Surfaces that are touched often should be wiped down with sanitizer cloths after each Chapel Service.
No food may be brought into the Ballroom for sharing; if food is offered, it should be individually wrapped.
---
Oh LIttle Town of Bethlehem
Verse 1
Oh little town of Bethlehem
How still we see thee lie
Above thy dark and dreamless sleep
The silent stars go by
For in the dark sky shineth
The everlasting light
The hopes and fears of all the years
Are met in thee tonight
Verse 2
How silently, how silently,
The wondrous gift is given;
So God imparts to human hearts
The blessings of His Heaven.
No ear may hear His coming,
But in this world of sin,
Where meek souls will receive Him still,
The dear Christ enters in.
Source: http://tabs.ultimate-guitar.com/m/misc_christmas/o_little_town_of_bethlehem_ver2_crd.htm
---
What Child Is This?
Verse 1
What Child is this who, laid to rest
On Mary's lap is sleeping?
Whom Angels greet with anthems sweet,
While shepherds watch are keeping?
This, this is Christ the King,
Whom shepherds guard and Angels sing;
Haste, haste, to bring Him laud,
The Babe, the Son of Mary.
Verse 2
Why lies He in such mean estate,
Where ox and ass are feeding?
Good Christians, fear, for sinners here
The silent Word is pleading.
Nails, spear shall pierce Him through,
The cross be borne for me, for you.
Hail, hail the Word made flesh,
The Babe, the Son of Mary.
Verse 3
So bring Him incense, gold and myrrh,
Come peasant, king to own Him;
The King of kings salvation brings,
Let loving hearts enthrone Him.
Raise, raise a song on high,
The virgin sings her lullaby.
Joy, joy for Christ is born,
The Babe, the Son of Mary.
Source: http://tabs.ultimate-guitar.com/m/misc_christmas/what_child_is_this_ver2_crd.htm
---
Away In A Manger
Verse 1
Away in a manger, no crib for a bed,
The little Lord Jesus laid down his sweet head.
The stars in the sky looked down where he lay,
The little Lord Jesus, asleep on the hay.
Verse 2
The cattle are lowing, the poor Baby awakes,
But little Lord Jesus, no crying he makes.
I love Thee, Lord Jesus; look down from the sky,
And stay by my cradle 'til morning is nigh.
Verse 3
Be near me, Lord Jesus; I ask Thee to stay
Close by me forever and love me, I pray.
Bless all the dear children in Thy tender care,
And fit us for heaven to live with Thee there.
Third verse by John McFarland.
Music by James R. Murray.
Public domain.
Source: http://www.e-chords.com/chords/anne-murray/away-in-a-manger
---
Hark The Herald Angels Sing
Verse 1
Hark! The Herald angels sing glory to the newborn king
Peace on earth and mercy mild. God and sinners reconciled.
Joyful all ye nations rise, join the triumph of the skies,
With angelic hosts proclaim, Christ is born in Bethlehem
Hark! The Herald angels sing, Glory to the newborn king.
Verse 2
Christ, by highest heav'n adored, Christ the everlasting Lord.
Late in time behold Him come, offspring of the virgin's womb.
Veiled in flesh the God-head see, Hail the incarnate Deity.
Pleased as Man with man to dwell, Jesus our Emmanuel!
Hark! The herald angels sing, Glory to the newborn king.
Verse 3
Mild he lays his glory by. Born that man no more may die.
Born to raise the sons of earth. Born to give them second birth.
Risen with healing in His wings, light and life to all He brings.
Hail the Son of Righteousness! Hail the heaven born Prince of Peace!
Hark! The herald angels sing, Glory to the newborn king.
Source: http://tabs.ultimate-guitar.com/m/misc_christmas/hark_the_herald_angels_sing_ver3_crd.htm
---
Silent Night
Verse 1
Silent night, holy night
All is calm, all is bright
Round yon Virgin mother and child
Holy Infant so tender and mild
Sleep in heavenly peace
Sleep in heavenly peace
Verse 2
Silent night, holy night!
Shepherds quake at the sight
Glories stream from heaven afar
Heavenly hosts sing Alleluia!
Christ, the Saviour is born
Christ, the Saviour is born
Verse 3
Silent night, holy night
Son of God, love's pure light
Radiant beams from Thy holy face
With the dawn of redeeming grace
Jesus, Lord, at Thy birth
Jesus, Lord, at Thy birth
Source: https://tabs.ultimate-guitar.com/tab/misc_christmas/silent_night_chords_1180512