Date/Time
Date(s) - Tuesday 11/15/2022
11:30 am - 12:30 pm
Location
Ballroom
Categories
Instructor: Katie Casey
Katie's focus is on wellness and inclusivity in the class. She teaches with joy, patience, and attention to
what each student needs. No matter where you are in your fitness journey, you will fit into her classes.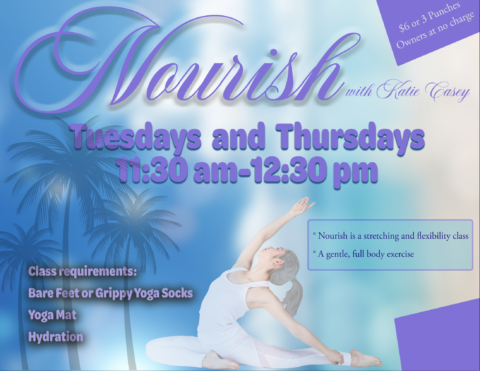 Nourish is a stretching and flexibility class that is a gentle, full-body exercise. You will focus on each
aspect of movement from head to toe, waking up your joints, muscles, and spine. The stretching
positions are about finding ease in the body, not looking for the edge or discomfort.
As you improve your flexibility you will improve your ability to do daily activities, correct posture,
expand range of motion and feel your body sigh in relief.
The stretching will be done while standing, sitting, and lying down with variations available if required.
Come prepare your muscles and joints so you can wring out all the wonderful in the day!
Required to bring to class:
Bare feet or grippy yoga socks are preferable – shoes can be worn but are not as effective.
A yoga mat
Hydration