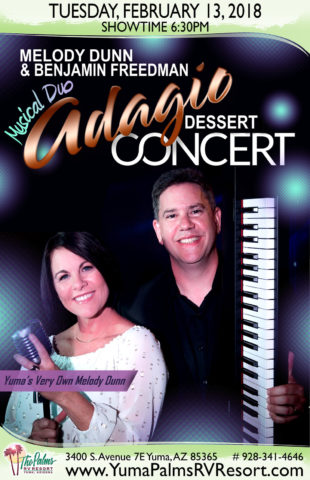 Musical Duo Adagio – Dessert Concert
Tuesday, February 13th @ 6:30PM – Only $22.95 per seat!
Seats are limited. Purchase Your Tickets Today!
Call 928-341-4646 or Buy Your Tickets Online
Born right here in Yuma, AZ, Melody Dunn is one of Yuma's musical success stories. Yuma first took notice of Melody when she became Miss Yuma County in 1988 but her study of music started much earlier. Her love of music began at the age of 10 when she picked up her first musical instrument and has not stopped playing since. She put together Melody Dunn and Desert Sky in 2000 and began entertaining not only Yuma audiences but fans all across the county with her first tour in 2002. The band was featured on the main stage at Country Thunder USA for three years before she left us for her first tour in Australia. Melody's first hit, Single Red Rose, was played overseas on radio and Australia's Country Music Channel (CMT) for over a year. Today she is taking a step back from the big stage and enjoying playing the soft songs she has loved for years. Melody Dunn and Ben Freedman are now the soul behind Adagio. "Adagio" is the musical duo of Melody Dunn and Benjamin Freedman. Our goal is to bring beautiful, intimate, romantic music to your event to captivate your guests and light up your evening. With just piano and vocals, we have a very pure, light sound. Melody is from Yuma and has appeared in both the US and abroad.
Click Here to Purchase Your Tickets Online Right Now!  -OR-  Contact Us!