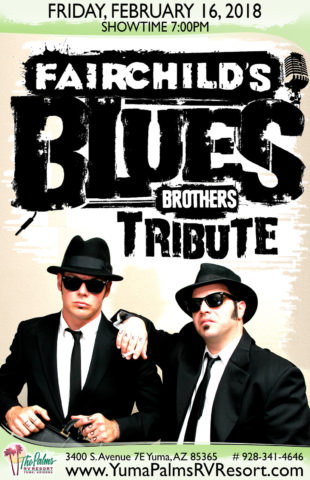 Blues Brothers – Tribute Concert
Friday, February 16th @ 7:00PM – Only $26.95 per seat!
Seats are limited. Purchase Your Tickets Today!
Call 928-341-4646 or Buy Your Tickets Online
WITH OVER TEN YEARS EXPERIENCE AS THE BLUES Brothers Fairchild's Blues Brother Tribute deliver an excellent performance and an enjoyable evening by using a good mix of talents & music that keep the audience pleasantly amused for a night of entertainment. The show is performed with a live band. Fairchild's Blues Brother Tribute is filled with non-stop blues that will thrill and amaze you.
Click Here to Purchase Your Tickets Online Right Now!  -OR-  Contact Us!