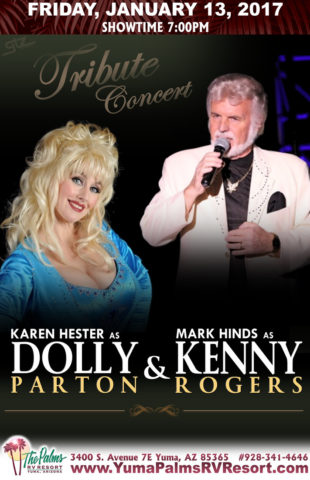 Kenny Rogers & Dolly Parton – Tribute Concert
Friday, January 13th 7PM – Only $25.95 per seat!
The show's over, folks! This concert has already past.  🙂
Stay tuned for our next season's concert series!
Mark Hinds (Kenny Rogers) and Karen Hester (Dolly Parton) both perform in a truly magnificent stage performance. Mark Hinds has been performing a Tribute to Kenny Rogers for the past 20 years. He started in Gaylord, Michigan in 1979 when he was given the opportunity to perform as Kenny Rogers at a ski resort. This would change his life forever. Mark has performed at numerous lodges perfecting his act and gained much notoriety as the only Kenny Rogers tribute artist in the country. Mark has been on stage twice with Kenny, both standing together side by side singing one of Kenny's biggest hits, "The Gambler". Karen Hester, performing as Dolly Parton is on her way to becoming one of the Legends best Dolly tribute artist. She started by singing at family reunions, gospel quartets and trios, and then started venturing into theatrical productions and country music. Now, she's been cast in regional and national commercials, acted in Murder Mystery, featured in "The Dean Martin Show, and on "Dino's TV Variety Show". Not to mention, she has been the opening act for recording artists such as Trace Atkins and Ricky Van Shleton. Karen brings her Dolly Parton act to life for Legends in Concert. Come hear Kenny & Dolly's best, and prepare to be impressed.
Links:
http://www.legendsinconcert.com/mark-hinds-kenny-rogers
http://www.legendsinconcert.com/karen-hester-dolly-parton
---
Some Video Links:
---