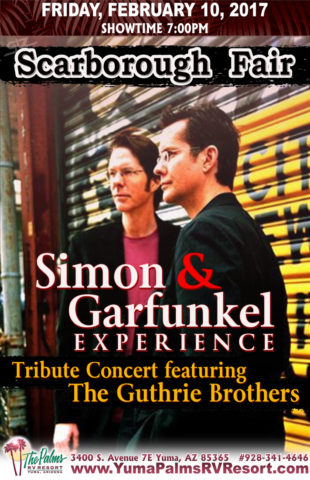 Simon & Garfunkel – Tribute Concert
Friday, February 10th 7PM – Only $19.95 per seat!
The show's over, folks! This concert has already past.  🙂
Stay tuned for our next season's concert series!
From their mesmerizing rendition of "Sound Of Silence" to their playful version of "Cecilia", prepare to fall in love again with the music of Simon & Garfunkel. The Guthrie Brothers take the listener on a journey of one of the world's most recognized folk rock duos. Through songs, stories and trivia, Jeb and Jock blend their rich voices together to weave an enjoyable tapestry that leaves every audience member smiling.
Links:
http://tedfass.com/artist/scarborough-fair-a-simon-and-garfunkel-experience-featuring-the-guthrie-brothers/
Some Video Links:
---