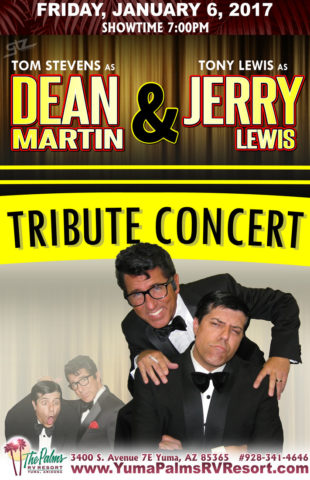 Dean Martin & Jerry Lewis – Tribute Concert
Friday, January 6th 7PM – Only $19.95 per seat!
The show's over, folks! This concert has already past.  🙂
Stay tuned for our next season's concert series!
"The Dean Martin and Jerry Lewis Tribute" is a show in a class all its own. Tom Stevens and Tony Lewis are two incredible performers that have each had success on their own. Tony Lewis has created a name for himself as the quintessential Jerry Lewis tribute artist. Tom Stevens has earned his title as "The Best Dean Martin Tribute Artist", even Dean`s daughter Deana agrees. Together they are undeniably a one of a kind show that will make you feel as if Dean Martin and Jerry Lewis are still performing together today. This show guarantees to give you a night of laughter, great music, and true professionalism at its best.
---
Some Video Links:

---