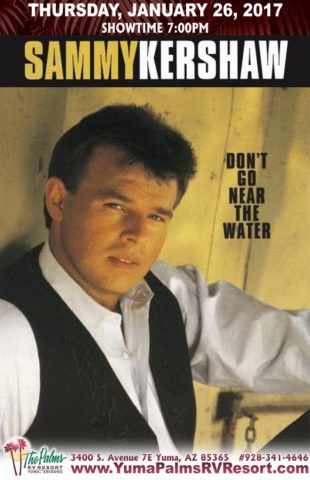 Sammy Kershaw – Live Concert
Thursday, January 26th 7PM – Only $36.95 per seat!
The show's over, folks! This concert has already past.  🙂
Stay tuned for our next season's concert series!
Since his debut on the music scene in the early 90's Kershaw has remained one of the most consistent power hitters in country music-both with a chain of major hit records and sell-out touring schedules. Sammy Kershaw's plan for country music is re-claiming its roots and recapturing the spirit that made it great. Kershaw's current album "Honkytonk Boots" promises to be a much anticipated first step in that plan of salvation. For the newest Kershaw project, the singer's soulful sounds and Cajun-whose efforts, like Sammy's, have lined his walls with platinum! Often offered to as the "Heir apparent" to the legendary "voice" himself-George Jones-Sammy Kershaw helped make the 90's a shining decade for country music. In the course of breaking into the ranks of stardom in country music, Sammy Kershaw has made contributions to more than just the charts. His platinum albums were propelled into the records books by hits such as "She Don't know She's Beautiful", "I can't Reach Her Anymore", "National working woman's Holiday", "Don't Go Near The Water", and many other milestones.
Links:
---
Some Video Links
---