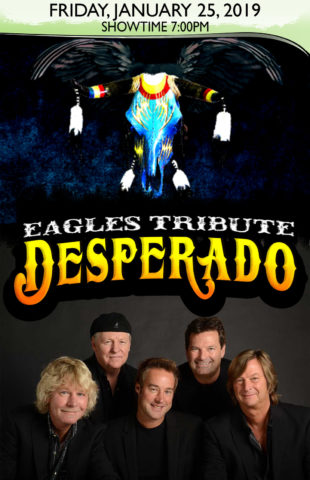 Desperado Eagles – Tribute Concert
Friday, Jan. 25, 2019 @ 7:00PM – Only $26.95 per seat!
The show's over, folks! This concert has already past. 🙂
Desperado has become one of the best and most well-known Eagles tributes in the United States. They boast a line-up of five lead singers and multi-instrumentalists; which not only possess and rival the musical talents of the actual Eagles, but have been used to play with members of the Hall of Fame band itself. Desperado tirelessly dedicates itself to the diligence of not only the music and vocals but the beautiful preservation of the imagery, mystique, and landscapes of vivid sentiment found in Eagles songs. Desperado is a "Must Hear" for all Eagles fans.
---