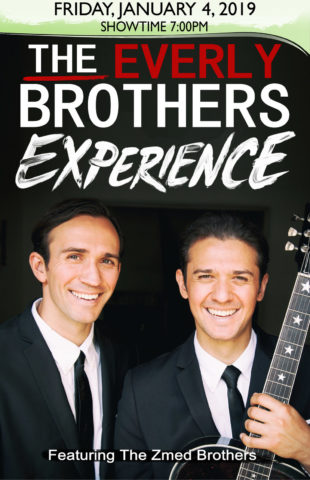 The Everly Brothers Experience – Tribute Concert
Friday, Jan. 04, 2019 @ 7:00PM – Only $26.95 per seat!
The show's over, folks! This concert has already past. 🙂
THE ZMED BROTHERS have celebrated the pivotal sounds and history of The Everly Brothers legacy with enthusiastic crowds all across the US and. The Everly Brothers career lasted over half a century. They recorded 21 studio albums, sold well over 60 million records worldwide, and had 35 billboard top -100 singles which still is the record for most billboard charting hits of any Rock sibling duo ever. They received numerous accolades in their career, and influenced countless legendary artists that came after them including The Beatles, Simon and Garfunkel, The Beach Boys, The Rolling Stones, Bob Dylan, The Bee Gees, Neil Young and more.
---