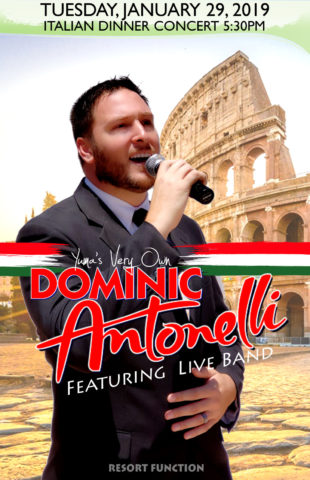 Dominic Antonelli Live – Dinner Concert
Tuesday, Jan. 29, 2019 @ 5:30PM – Only $45.00 per seat!
The show's over, folks! This concert has already past. 🙂
From an Early Age, Dominic Antonelli was influenced by amazing music and harmonies such as Elvis, The Beatles, The Beach Boys, The Eagles, and much more. With a rich family history of music, Dominic learned how to sing and harmonize at a very early age. He has played in many bands and traveled all over the US Singing and Playing. Originally from Columbus, OH, he now resides in sunny Yuma Arizona where he continues to Sing and play in bands. Now, he brings these classic vocal stylings to the present as a tribute to the legacy that they are. Serenading audiences with Doo Wop, Rock, and Love Songs from the 50's, 60's and 70's, Dominic brings the passion he has for these songs wherever he goes.
---