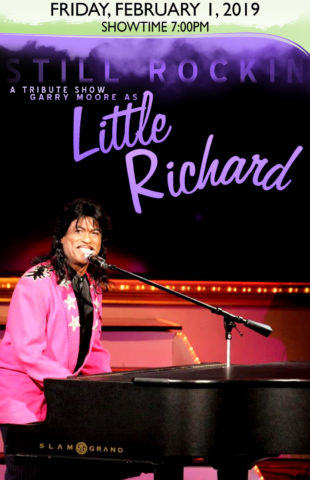 Little Richard – Tribute Concert
Friday, Feb. 01, 2019 @ 7:00PM – Only $26.95 per seat!
The show's over, folks! This concert has already past. 🙂
Put on your dancing shoes because you're going to want to rock the night away when you see Garry Moore pay tribute to Little Richard. For over 20 years, Gary has been dazzling audience around the world with his uncanny sound and likeness to the man himself. You'll hear such tunes as: "Good Golly Mss Molly, Lucille, Tutti Frutti, Keep A-Knockin`" and a whole lot more! The highlight of Garry's career came in 2007 when he performed with Little Richard on the ABC TV show, "The Next Best Thing." "Never in my wildest dreams would I have imagined that I would be on the same stage with the one I was impersonating, and to actually perform with him! We talked and took pictures with him." Seeing Gary in concert will have fans feeling as though they've actually seen Little Richard in concert.
---