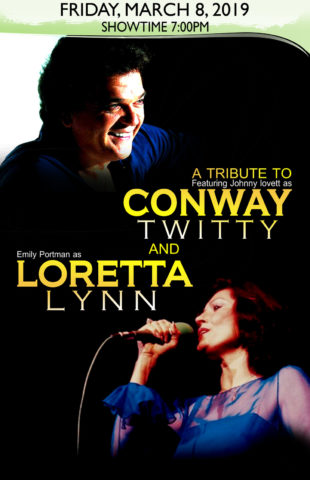 Conway Twitty & Loretta Lyn – Tribute Concert
Friday, March 08, 2019 @ 7:00PM – Only $26.95 per seat!
The show's over, folks! This concert has already past. 🙂
The ultimate country duo is brought to life in "Conway & Loretta". Take a trip back to real country music that tells a story. Johnny Lovett is a superb singer and performer. He has been given the honor of being the official recognized voice of Conway by the Twitty family. Emily Portman, a Kentucky born girl, recreates Loretta in her glory days. Her look & sound is amazing. She has appeared on stage with the first lady of country on several occasions. This authentic show includes songs like, Only Make Believe, Don`t Take It Away, Good Bye Time, Coal Miners Daughter, Hey Loretta and Honky Tonk Girl. Relive the magic that is Conway & Loretta!
---