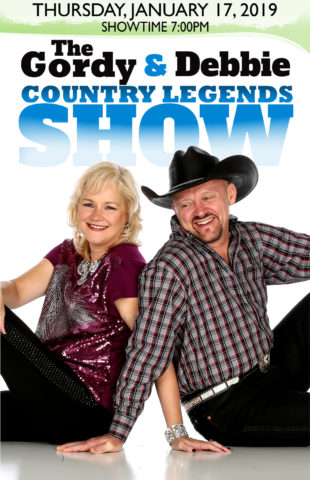 Gordy & Debbie Country Legends Show – Live Concert
Thursday, Jan. 17, 2019 @ 7:00PM – Only $23.95 per seat!
The show's over, folks! This concert has already past. 🙂
Gordy Wensel and Debbie Kaye are from Branson, MO. They each have spent the last twenty-five years in the entertainment industry. They first met in 2005 and by 2006 their love for music and each other grew into a husband and wife singing duo. They performed on Mickey Gilley's internationally syndicated TV show called "Gilley's Place" on the RFD-TV Network. They also have made appearances on several Branson stages, The Gordy and Debbie Show at the Branson Mall Center Stage, Branson Country USA, a nationally syndicated LIVE radio show, broadcast from The Grand Country Theatre. They perform here at the Resort in 2012 for one of our Dessert Shows & became a huge hit. Gordy and Debbie perform an upbeat variety of country, 50's & 60's, gospel and patriotic music, splashed with a little comedy, tailored to please audiences of all ages.
---